Good day dear readers, listeners and blog followers!
Today we have a special post, dedicated to yet another, the 47th, anniversary of the founding of the legendary Los Van Van (December 4th 1969) !
But before we get into the history of the band and its tremendous impact on contemporary Cuban music, I would like to dedicate today's post to gran maestro Juan Formell, who passed away on May day 2014… this is the 3rd time that the band's anniversary is celebrated without its founding father, which is indeed quite sad… so let's take a minute of silence in his memory…
Today's post will be by far an incomplete analysis of Van Van's discography, history or style, and thus doesn't even attempt to be any of that; on the contrary, it is a humble attempt to look at the band's development over the years, taking notes of compositions that I find influential from a historical point of view… or just personal favorites of mine for Van Van's long long discography 😉
So now, let's get to it!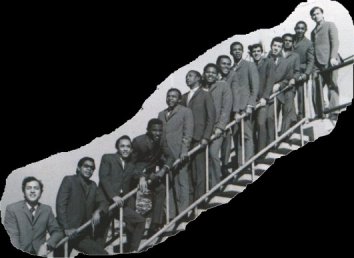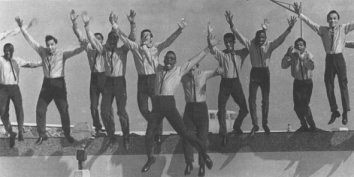 Los Van Van was founded on December 4th, 1969, by Juan Formell, Cesar "pupy" Pedroso, Miguel Angel Rasalps "lele" (yes, his son is one of Van Vans' lead singers in recent years) and others.
Before starting his own band, Formell worked for several years as the musical director, arranger and bassist for Orquesta Reve, where he first concocted what was initially called "Changui 68", then "Changui Shake" and later "Songo", a unique highly innovative, sophisticated and revolutionary personal musical style, which will change contemporary Cuban music forever in the years to come…
A good example of this early Formell style is Reve's "el Martes", that would later also appear on some of Van Van's collections and compilations
Formell's musical style had several features which make it unique and influential.
First, it was, for the time of its creation, another step in the long lasting musical tradition found in Cuban music – mixing various sources and traditional Cuban musical styles, incorporating elements of different authentic directions creating something new which is "the same but different".
One can see this tradition back centuries with the "Contradanza Criolla" (Habanera), and later Danzon, which had implicit elements of Afro Cuban tradition in them at times when this was socially unacceptable.
Another good example is the trend of early urban Son compositions, like those made by Sexteto Habanero during the 1920s, and later Son Montuno and Guaguanco-Son that were created by Arsenio Rodriguez in the 1930's and 1940's.
All those incorporate more and more elements of Afro-Cuban traditions in popular, Son and Danzon based music… without calling them that, of course, as this was socially unacceptable, and could even get you in trouble during those days of racial segregation enforced by American authorities in control since 1898.
Other notable examples would from the 1960's, with the first 2 styles of Cuban music made after the revolution; Pacho Alonso's Pilon and Pello el Afrokan's Mozambique, that also were mixes of modern styles and instrumentation of Mambo and Son Montuno with various (especially percussive) elements of different Afro Cuban rhythms such as Bata, Congo, Guaguanco and Conga de Comparsa.
In his style Formell did exactly the same, bringing together more and more elements of Rumba and later Yoruba into one huge mix that already included elements of Danzon based music, mainly played by Charanga type orchestras but also included some elements drawn from Son based music, typically played by Conjunto type orchestras (one should recall that the 2 types were already mixed to an extent, as I explained at a previous post on the subject of Charangas and Conjuntos).
The 2nd, and maybe most important, innovation that Formell and Los Van Van are responsible for is the introduction of new, never heard of before, musical instruments, into contemporary Cuban music.
This includes electric and amplified instruments such as electric guitars, bass and synthesizers.
Also, Jose Luis Quintana, better known as "Changuito", who during the early 1970s created a unique, personal version of the drum kit, as these were not available in Cuba at the time.
Changuito was also one of the first to include the use of Bata drums in contemporary Cuban music, and with both those "inventions" created the new percussive sound of Songo, which would later be very influential in Timba music.
The 3rd important contribution of Formell and Van Van to future Cuban music was, just like the traditions of authentic genre mixing mentioned above, use of layered harmonies, at times also played by rhythm instruments (and this, especially for the bass, is also an element that would be greatly amplified by many musician during the "epoca de oro" of Timba later on…) and also lyrics with social context reflecting the occurrences of the time in Cuba.
And now, after understanding the importance of Los Van Van a bit better, let's get to the "historic countdown".
The first decade, 1969 – 1979
Los Van Van's first album came out in 1969, and was simply called "Los Van Van".
Later it would be called "Volume I", as the band (like most other bands in Cuba at that time, for some reason) would not release any albums until the early 1980's.
It was a direct continuation of Formell's personal unique charanga style, created during the late 1960's, a representative song for which can be "el Martes" mentioned above, and also "Yuya Martinez".
My personal favorite composition from that album is not a songo or a Changui 68 (although both "Fracase" and "la Lucha" would be honorable mentiones), but rather a lyrical Bolero-Son called "Marilu", whose mellow and romantic style really caught my ear, and from what I know, will be one of the audience's favorite in the band's concerts for many years to come (especially later on, sung by the amazing Pedrito Calvo…) :
As the 1970s progressed, Van Van released more and more singles, that over time were united into compilations, or volumes, going from II to IV as the decade went on and the Songo musical style developed along with it.
During that time some of the most well known, loved and influential Songo compositions came into existence, and can now be found on the various volumes released during that time.
If one wishes to truly hear the early Songo in its finest, and can only choose 2, one should listen to "Aqui se enciende la Candela" (also covered by Pupy y LQSS last year) and Chirrin Chirran; these 2 are as representative as Songo gets, with electric bass, piano and guitar, great Rumbaesque percussion mixed with Changuito's unique drum set and topped with the wonderful catchy harmonies of flutes and violins that are all over the place (in a good sense!)…
An interesting piece from that time also worth mentioning in my opinion is a 9 minute + medley called "Llegue llegue \ Guararey de Pastora", which combines an original Van Van Songo composition (the first part) with a traditional Changui classic (the 2nd part) infused with Van Van's style of that time…
A last honorable mention for this time would be a less known one… well, maybe until recently… and that is a great Songo called "Es Mucho", and features the amazing flute playing of Jose Luis Cortes and the great vocals of the young Pedrito Calvo among other strong points.
The first album decade, or Los Van Van during the 1980s (1980-1989)
This is the time when most Cuban bands started releasing complete albums once more, and boy, there sure are some great albums from that time!
But let us focus on Van Van, as it is their birthday week…
Our first hit comes right from 1980, from Volume IV, and is one of the first releases of that era containing strong and very noticeable Rumba influences, with about half of the song being a Guaguanco from A to Z.
This song will be covered several times later, will become a dance floor favorite, and will be the opening shot of a "genre" nicknamed "orchestrated Rumba", also setting the stage for the resurgence of Rumba and Afro themes in popular Cuban music during that decade and ever since… for those who haven't yet guessed, I'm talking about "De la Habana a Matanzas"!
The next album, released in 1982, was Van Van's great "rise to fame" of the decade, with the album's title track "el Baile del Buey Cansao" (the album is also sometimes called "bailando! eh! ah!), a mix of conga and son that will quickly become a hit for decades to come, skyrocketing the band to the top of Cuba's charts… and it even had its own dance!
More in the Songo & casino friendly vein is the next song, which will also be covered several times later.
This is Hoy se Cumple Seis Semanas, featuring the unique vocals of Israel Kantor Sardinas, who will sing with the band for only a couple of years before defecting to the USA…
The year 1983 brought with it the album "Que Pista".
Except the fine title track and one major hit I will mention shortly, it also contains an interesting injection of Palo tradition into Songo in the form of the composition named "Que Palo es Ese"
The hit song I mentioned above, that instantly became one of the "anthems" of Songo and contemporary Cuban music as a whole, is, of course, Sandunguera, also known as Por Encima del Nivel.
This song is considered to be one of the band's greatest songs of all times, containing fascinating Clave manipulations, Pedrito's wonderful vocals, Orlando Canto's emotional flute parts and Pupy's amazing piano solos & catchy riffs, to name a few major points.
The song will be covered several times later (surprise surprise! 🙂 ), but I like the original version best…
Next in line is yet another piece to remember (they just keep coming!), from 1984 – Anda, Ven y Muevete, being the hit title track of a hit albums containing many wonderful compositions such as the lyrical and melodic Sera que se Acabo, the socially oriented La Habana no Aguanta Mas and of course, the title track:
The next few years brought with them many hits, some of which will often be quoted by other bands later on, during the Timba era, as the musicians of those days grew up with the music of Los Van Van from the 1980s.
The most popular and well known of these include El Carcinero, El Buena Gente (considered to be one of Pupy's major hits of all times) and Se Muere la Tia.
Next in line is the 1986 Eso Que Anda, containing many dance floor hits such as y ya tu Campana no Suena, No es Facil, que no que no (a personal favorite of mine, by the way…) and the title track of the album…
Before we get to the 1988 masterpiece titled "Songo", a few honorable mentions:
1) a song that would become a Van Van classic, and also one of Pupy's trump cards, later covered by Timba virtuoso Isaac Delgado.
This is La Titimania, which even has a nice video clip 🙂
2+3) from the funnily named "el negro no tiene na" of 1988 come yet another Songo classic, Se Acabo el Querer and the super romantic hit Este Amor que se Muere (and yes, these 2 are also high on my favorite list!)
Songo, which came out in 1988, is an album not known for any innovative compositions;
It actually has nothing new to offer in that field.
It is rather known for the fine quality of the New York studio equipment where it was recorded, and the wonderful chemistry ever so evident in the re-recorded versions of such hits as Sandunguera, Anda Ven y Muevete, La Titimania and Ya Tu Campana no Suena.
This album was the first step in introducing Los Van Van to US and many other audiences outside of Cuba, and is definitely not the last time for the band to come to the USA.
Here is an example that you can compare to the 1983 original:
The last album of the decade is also a great one, and things just keep getting better and better as we move on to the 1990s and the Timba era… but before that, when Timba was still in its infancy, Los Van Van created an unfortunately little known masterpiece called "Rico Son" or "Cronicas", that came out in 1989.
This album should be known by any Timba fans out there, as it can be considered one of its roots, with such compositions as the wonderful descarga "Yo Se Que Van Van", the witty and hard hitting "Tranquilo Mota", and the true gem of the album, the amazing "No Soy de la Gran Escena", a true Timba masterpiece before Timba was established as a genre, with bloques and gears, some of which even include… Classical music, and a healthy dose of social context…
From Songo to Timba to…? the 1990s and beyond!
This decade, with the quick rise of Timba and its great many innovations, had seen Van Van rise again, together with the new wave of primera linea bands, this time around as a Timba Juggernaut!
But before the band produced some of the most well known Timbas in existence, we can still hear some great "transitional" compositions, that are definitely Songo on one hand, but are definitely different, on the other hand, when compared to their predecessors from the 1970's or early 1980s.
The decade starts with the amazing Aqui el Que Baila Gana, a dual CD albums, considered by many to be Los Van Van's best album of all time.
It contains great many (and quite varied) "Songo-Timba" hits such as Ahora Dime Si Me Quieres, Esto Si Es Distino, Esto Esta Bueno, Me Basta Con Pensar (yes, covered once more recently) and the title track, and also some peeks to other genres, with a Merengue-Son named Bailando Mojao and a Lambada named Solo Queria Bailar Lambada.
The title track is also a masterpiece…
The next album, the 1993 Azucar, is considered by many to be Van Van's entry move into the realm of Timba, or at least a departure from the Songo genre for quite a while.
The album's most notable compositions are Esperando Llamada, for its mellow groove and trombone parts; the amazing Que Le Den Candela, which is on one hand a throwback to the times when Son was all the rage, yet on the other hand contains some "proto-guias" in the end, a clear Timba element; and last but not least, the title track, a solid dance hit that will sure get your heart pumping blood fast, if not from excitement than from its fast tempo!
The mid 90s saw the release of a "lo ultimo en vivo" in 1994, which apparently was recorded at La Tropical, but not as a concert at all.
Notable compositions are Que Tiene Van Van, Un Socio, Mandalo y Ven, and the most memorable for me, Que Sorpresa
Now, as 1996 drew in, the band truly had entered the Timba era with Ay dios, Amparame!
If you remember, I mentioned earlier in this post that using Afro Cuban themes in contemporary Cuban music has been popular for many decades, even centuries, with the latest manifestation starting in the 1980s.
In this album we see one of the greatest Timba hits of the decade and all time, which is also one of the most well known tracks about Santeria and Afro Cuban traditions in general…
This is Soy Todo, which also goes by the same name as the albums itself.
The album's Afro Cuban theme also continues on the secular side, with a cover of the 1980 "de la Habana a Matanzas", with Mayito's great Rumbero vocals.
Other notable tracks are many, including the Romantic Deja la Ira, the nice Son Hay Mujeres, and the lengthy yet groovy De Igual a Igual.
Another favorite of mine, which is often neglected (again, for no good reason whatsoever), is Camina Pa' que te Conozcan.
But as mentioned before, the "star" of this album is the title track, which IMO is even more amazing in live versions…
In 1997, as Timba entered into high gear (pun intended! 🙂 ), so did Los Van Van, with Esto Te Pone La Cabeza Mala", producing a "Timba anthem" if there ever was one… even though Van Van is rarely credited with the "creation" of Timba, the band sure gave a fair share of contribution to the genre…
The albums includes great tracks of all kinds and flavours, from romantic ones such as Ella Tiene Algo Que No Se or Que Pasa Con Ella (which is romantic yet a more uptempo) to hard hitting, dance floor dominating hits like El Tren Se Va and of course, Ni Bombones Ni Caramelos, another gem by Pupy.
Yet once more, the most memorable and adored composition of the album is the title track, which for ever resides deep down at the heart of each and every Timba fan out there…
As the decade draws to an end, Los Van Van just can't stop making hits, one album at a time.
They call Van Van "el tren bala de la musica Cubana" for a reason!
With 1999 together came yet another hugely successful album, Llego Van Van, the band's 30 year anniversary project… can you blame it for being so damn good?
It even won the Grammy that year.
Each and every track on this albums is worth listening (and dancing) to, and if possible, at least twice or trice 🙂
So instead of listening them all by name, I will just put it here, as a playlist (which is, unfortunately, only partial. But you can find the rest of the track of this album by searching on youtube)… but before I do that, I will mention that Permiso Que Llego Van Van briefly tells the band's story, La Bomba Soy Yo makes fun of those who are worth little but claim to be the best, Appapas del Calabar and Somos Cubanos are Afro and Rumba themed, respectively, that Temba Tumba Timba and El Negro Esta Cocinando are romance and food themed Timba classics, and that you could not end the album any better than with Havana City…
Before the millenniums changed, the band got to visit the USA again, this time for a mega concert at the Miami arena, which I highly recommend!
Before moving on, I would also like to mention yet another live album, which is also the band's first release in the new millennium – the 2003 live "en el malecon de la Habana", containing some great new material such as Timpop and Mi Mimi, but also great extended versions of hits such as Temba Tumba Timba and Esto Te Pone La Cabeza Mala
As the 2000s progress, Los Van Van releases yet another great album in late 2004, Chapeando, with a rather new line up of musicians;
Pupy left to form his own band, replaced by the grandson of legendary Bebo Valdez, Roberto Rodriguez "Cucurucho", Lele Jr. and Yeni Valdez join as lead vocalists, and Formell's son, Samuel arranges the albums, plays the drum kit, and composes 2 of the tracks.
The album is notable for many great dance floor favorits such as Ven Ven Ven, Corazon, Agua and No Pidas Mas Presta'o, the more traditional El Montuno and one of the most touching love songs in the history of Cuban music, Despues de Todo
As always, the title track does no disappointment to the feet, ears, and this time around, also the eyes, with its beautiful, colourful video clip and Afro mythology coming to life…
In 2007 the band recorded (yet again!) its live concerts, and the results are not disappointing… you should simply clear up 2-3 hours, and take a listen!
Aqui el Que Baila Gana – El Concierto
As yet another decade came to a close, Van Van released Arrasando in 2009, with Formell taking a step back, still arranging and directing, but not playing the bass.
The album is solid but not known for any masterpieces.
Yet still can boast a line up of 4 main vocalists + Formell's daughter Vanessa singing the beautiful, groovy, rhythmic and yet romantic Un Tumbao Pa' Los Dos, my personal favorite of the album.
Other notable compositions are La Rumba No, Tu a Lo Tuyo, Yo a Lo Mio, Dame la Luz, Mi Songo, and the visually pleasing  Me Mantengo
Recorded in 2009 yet released only in 2012 is the 40 year anniversary concert of Los Van Van – definitely worth listening to if you are a Vanvanero, a fan of Cuban music, or even better, both, as they are not mutually exclusive… they are mutually inclusive 😉
The next album, released in 2011, is La Maquinaria, featuring some covers of old hits like Recibeme, Eso Que Anda and La Boberia, as well as fine original compositions like Mis Santos Son Ustedes and Que Tiene Ese Guajiro.
Final is a collaboration with Habana de Primera's Alexander Abreu on Trumpet doing his usual magic.
My favorite (with Que Tiene Ese Guajiro a close second place) song from this album is the title track, La Maquinaria, which also has a beautiful video clip
Last but not least, the most recent release of the band has been a tragic one, as Juan Formell passed away in 2014.
The album is called La Fantasia, and was released as a homage to the maestro, with some of his greatest hits of all time performed by today's members.
I implore you to listen to the whole album, not only as it is quite good, but also of respect to the legendary man behind Los Van Van, and so much else in contemporary Cuban music…
Although ending on a bit of a sad note, I hope that each and every one of us learned something today, and can now appreciate this immensely important and talented collection of musicians a bit better… and only time will tell what great compositions we shall be seeing from LVV in the future… Disfruten!