For the 1st recommendation of the new year, I chose one of the major Cuban orchestras, which has been leading the Cuban musical scene since the mid 1950's, and served at one time point or another as a greenhouse for almost every notable Cuban musician since that time, including Chucho Valdez, Juan Formell, Cesar ("pupy") Pedroso and Juan Carlos Alfonso, just to name a few.
Orquesta Reve, which had several names over the years (El Charangon del Reve, Elito Reve y Su Changui), reflecting the different "phases" the band went through.
It all started with a small charanga band at 1956, let by a young timbalero from Guantanamo named Elio Reve Matos.
His vision was to bring Changui music out of the countryside and into the mainstream, just like it happened with Son music several decades before that.
After only 2 years of work, some of the musicians left the band and formed one of their own; this first split (of many more to come) gave birth to another famous Cuban band, Ritmo Oriental, which I will tell about in detail in future posts to come (this band is also active today, BTW).
The next "sub set of talents" in Elio's band were the folks who will split in 1968 to form Los Van Van; More talented musician came and went during the 1970's, but only during the early 1980's did the band, now named el Charangon, made it into stardom.
Yet another star, pianist and arranger, Juan Carlos Alfonso, will pass through the band, splitting off to form Orquesta Dan Den in 1988.
After the tragic death of Elio Reve in a traffic accident in spring of 1998, his sun, Elio jr (Elito), who has been playing with the band and arranging numbers since his later teens, has taken over as the manager, director and band leader, taking his father's legacy into the 21st century.
Today Orquesta Reve is one of the major Timba bands in Cuba and world wide, mixing traditional Rumba, Son, and mostly, Changui, with the current sound of Cuban music, with most albums topping the charts; for example, their 2008 album "fresquesito" was among the top 10 albums of the 2000's.
This partial chart, a courtesy of Timba.com, can give you a sense of scale to why this band is considered to be a cradle of modern Cuban music…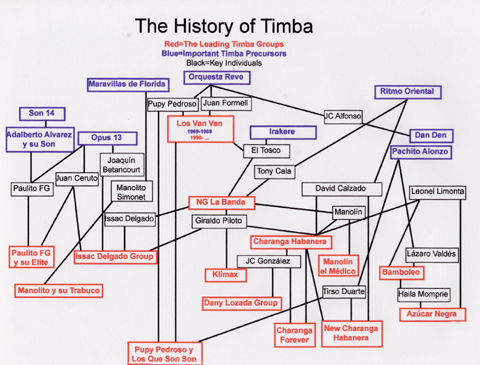 The song I recommend here today is called "Matanzas Tiene La Llave", and is about the great city of Matanzas, Cuba, which is a major center of Rumba.
The song itself has a Rumba intro, and countless Rumba elements.