Good day dear readers, listeners and blog followers!
After a break of 1 week I henceforth return, to tell you a little about the Rumba y Candela festival at the beautiful city of Strasbourg, France.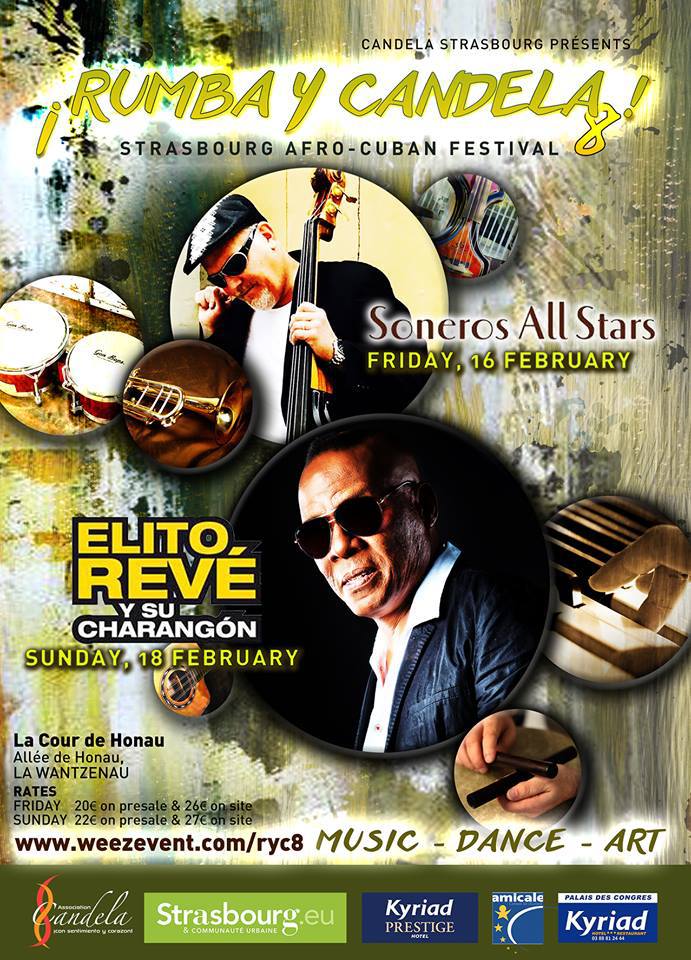 The festival was very much fun, with great parties 'till the mornings' light, lots of amazing and super friendly dancers from all over the world, 2 days of interesting workshops of authentic Cuban dances…
But for me the best part of the festival was that 3 of its 4 nights featured live music!
The first one was by a very nice Latin Jazz band from Cuba called the Harold Lopez-Nussa Trio, which played quite a few interesting compositions, for example, a jazzy cover of the Irakere classic:
But the main dishes kept coming on Friday and Sunday, with concerts by the Soneros all stars (featuring Pepito Gomez from Pupy y LQSS) and Orquesta Reve !!!
Yes, you read it correctly – 1 festival with no less than 3 concerts, 2 of them being by primera linea Timba bands… and the Soneros even made a promo recording shortly before the festival…
Their concert was wonderful – with vocals covered by Pascualito, Roberto and Pepito, the soneros performed many a great composition (including the marvelous Dicen Que Dicen, from Pupys' repertoire), and truly lived up to their name of both "soneros" and "all stars".
Of this concert, my favorite composition was the Son & Changui infused Timba masterpiece called "Dime Nague Que Bola", which was as much pleasure for the ears and for the feet…
As for the Reve concert… it really blew me off my feet!
I have seen the living school of Cuban music on stage at least 3 times before, and have seen over 2 dozen other concerts over the years, but this one was one of the best I had yet witnessed.
The musicians were at their finest, playing, singing, improvising and just having a great time, and the audience was just ecstatic…
The concert was a perfect mix of their newest stuff, such as no vengas llorando and gente chevere, new stuff like esa soy yo, yuya and cachita, and classics such as 1999, se sigue comentando and mi salsa tiene sandunga… a perfect mix!
I'll leave you with my favorite from the newer musical numbers, with one of the best voices in contemporary Cuban music, Susel la China… ¡Disfruten!