Among the most recognized voices in Timba, one will find such as Isaac Delgado, Mayito & Guayacan of Los Van Van, Manolin el medico… and one more very important and talented figure – Paulito FG.
Born Paulo Alfonso Fernandez Gallo in 1962 in Habana, Paulo was singing before he could walk; his mother, a singer and pianist, encouraged him to sing along with her playing even before he could speak.
This was his initial musical education…
His musical career started during the mid 80's, when he was discovered by Adalberto Alvarez, who was mesmerized by his vocal talent.
Paulito sang a short while with Adalberto, then Dan Den, and in 1991took leadership of a well established band, Opus 13, turning it to Paulito FG y Su Elite, starting his meteoric rise to the top of the musical scene in Cuba.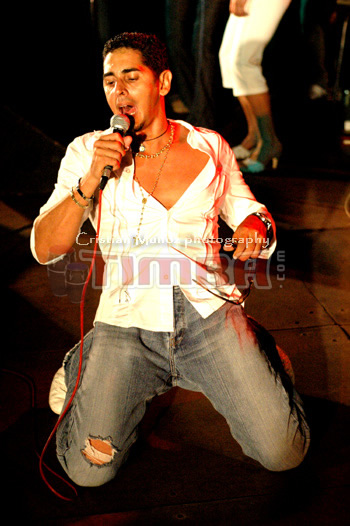 Paulito's Elite truly is an elite band, a collection of very talented musicians; Juan Ceruto, arranger of Opus 13, became one of Paulito's closest friends and partners, arranging hit after hit after hit during the 90's… Together they also assembled one of the most creative and interesting horn sections in Timba history.
For example, the horn section included Alexander Abreu, now band leader of Habana De Primera.
The percussion section is also quite unique, and featured young talents who were (or will later be) with Charanga Habanera, Los Van Van, and Isaac Delgado's group.
This great assembly of creative musical elements culminated in 1997, with the release of "Con la  Conciencia Tranquila", one of the most regarded albums in Timba history.
Paulito is a very intelligent and talented musician himself, well known for his improvisation abilities; like many other Cuban bands, his live performances differ greatly from his studio recordings.
One of the unique features of Timba music is it's "Guias" (or "gears", if you like) – special parts of the song during which some instruments play solo parts, and the singer greatly improvises over the lyrics.
Paulito is the undisputed master of this "genre", stretching songs to over 20 minutes long, mostly due to his line improvisations which are always performed together with the audience.
Later, a large part of the band moved to play with Isaac Delgado, and was replaced by other talents… over the years Paulito released 9 albums, the latest being "Sin Etiquea" of 2010.