Good day my friends!
I would like to present you with the band La Bola;
It is quite uncommon for a good Timba band to come from the USA, with most being mixed Cuban-American examples such as Mamborama.
This one is not "all American", and is led by the wonderful Cuban pianist Ariacne Trujillo, which is nowadays a member of the Pedrito Martinez Group – this is an earlier project of hers, which although did not last until nowadays, was still wonderful, and produced fine Timba songs such as the one mentioned in this post.
The band is quite large, sporting 13 musicians including pianist, bass player, percussion, horns, guiro, flute and violin; Some of the musicians are Cuban, some are American.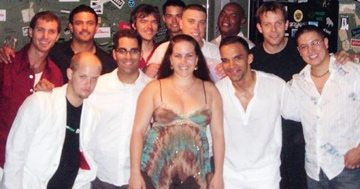 The song I present here today, "Pa' Que Me Criticas", is originally by Dan Den, but received a big energy shot from La Bola, taking it to the more wild side of the Timba spectrum.
Disfruten!